Anticipation for the Upcoming Soccer Season!
So, you have recently just registered your child in a FFPS youth soccer league. You and your child have been talking about the upcoming season frequently. Excitement has been steadily growing since you have signed up! Expectations have been building with the first game on the horizon, but now that game-day has come, your child is displaying a little bit of nervousness. This is completely normal! Being intimated or scared, with first day jitters are normal and expected in youth soccer. Here is how you can assist your child and help them navigating pregame jitters for the upcoming Fall FFPS soccer season.
Understanding and Using First Game Jitters
It is important to understand that the gradual development of pre-game jitters is created by the building up of adrenaline waiting to be released. Knowing this, it is essential your child uses that initial nervousness as energy for the game. This means that when kids can understand their anxiety and tell themselves that it is excitement, they can embrace their natural feelings before the soccer game and have a more fun, fair, and positive experience!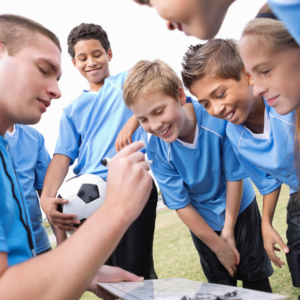 These are Normal Feelings to Have
Anxiety before a big event is part of being human and is experienced by everyone. Learning to understand the signals of nervousness in your child, so that you can have a simple conversation about it, is important. Reassure your child what they are feeling is completely normal and experienced by everyone, even adults! You might use the phrase "butterflies in your stomach" to help your child understand that this is a common feeling experienced by everyone.
Take a Moment to Breathe
Sometimes, just taking a deep breath can help with navigating pregame jitters. A simple calming breathing exercise with some soothing music can go a long way! Plus, this easy exercise is a great life lesson to learn that they can use throughout their life!
Remember to Hydrate and Eat Plenty of Healthy Snacks
Bring plenty of water so that everyone has the chance to drink water throughout the entire day. Sports drinks, like Gatorade, are great because athletes can replace electrolytes while not intaking copious amounts of sugar. It is also crucial to hydrate your children before practice or games, as well as during and after soccer activities. Be sure that your child gets enough sleep the night before a practice or game and eats a healthy diet to provide energy and mental clarity.
Youth Soccer For Everyone!
At FFPS, we believe in a focus on fun, not serious competition. This is because we believe youth soccer should not just be about winning and scoring, but also about enjoying the game of soccer in a positive environment. We do not have all-star teams, and our young athletes get equal playing time regardless of their level of talent.
Fall Soccer League Registration. Sign Up Now!